We are an international research leader, with a proud history of pioneering medical advances and cancer research breakthroughs that have helped improve treatment and care for cancer patients across the world.
Over the years, our experts have been at the forefront of leading edge research which has had an impact on patients across the world. This includes the development of bone-strengthening drugs which now provide relief to thousands of patients every year. We were also part of the international research team whose breakthrough findings on the use of Herceptin as a treatment for advanced breast cancer enabled the drug to be fast tracked into clinical use.
We have obtained £60 million for cancer-related research over the last five years and are one of only 18 adult UK Experimental Cancer Medicine Centres, working in collaboration with the University of Sheffield and Sheffield Hallam University. This will allow us to continue to expand our portfolio of translational research and early phase trials, so that ideas, insights and discoveries generated through basic scientific inquiry can be brought from bench to bedside to treat and prevent all types of cancers.
We are exceptionally fortunate to have longstanding partnerships with key funders including the National Institute for Health Research (NIHR), the Experimental Cancer Medicine Centre network and commercial companies. We also receive support in our work from Weston Park Cancer Charity and Yorkshire Cancer Research. These partnerships have been critical to our ongoing success in the field of cancer research.
We are considered to be a world leader in bone oncology, as well as translational research strengths in cancer genomics, the tumour microenvironment, thoracic and rare cancers. We are a European Centre of Excellence for Neuroendocrine Tumours and have an international reputation in Ocular Melanoma, being one of three UK Centres of Excellence.
Research and development is embedded within each service department across the Centre and all of these departments actively support patients participating in clinical trials.
Our range of research includes treatment and non-treatment trials across all phases. This is made possible through our dedicated on-site research facility.
The Sheffield Cancer Clinical Trials Centre, based at Weston Park Cancer Centre, is a renowned centre of excellence for cancer research with a dedicated research team caring for patients throughout their research treatment.
Weston Park Cancer Cancer has more than 100 active clinical trials over the full range of adult and teenage cancers, and is one of the highest recruiting cancer centres in the UK.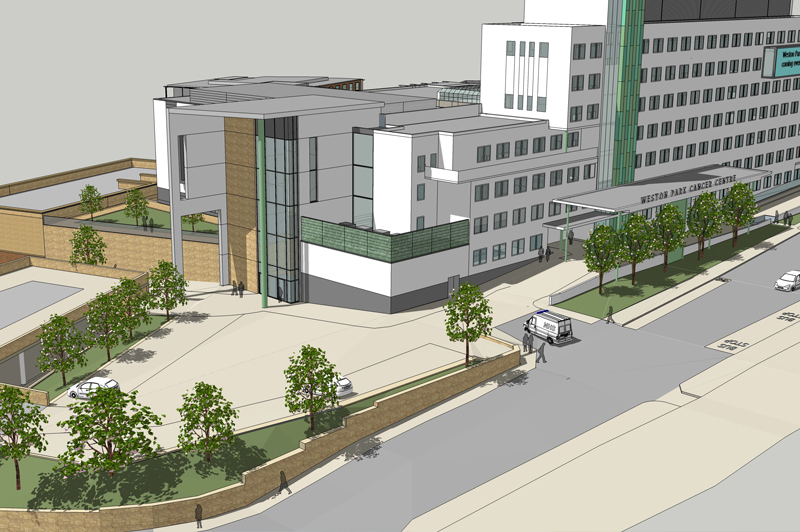 World leading Research and Innovation Centre
We are now at an exciting stage of development which will see the creation of a world-leading integrated centre of cancer research and innovation within Weston Park Cancer Centre. This will bring together leading experts from the University of Sheffield and Weston Park Cancer Centre, to answer some of the biggest questions faced by cancer researchers today.
Over the next three years we aim to:
Accelerate the transition of lab-based and discoveries enquiry to the clinic, so that lives can be improved at pace and at scale
Use the expertise of a wide range of people from different disciplines, including oncologists, scientists, engineers, pharmaceutical companies, manufacturers and patients, to drive forward the development of new and innovative treatments
Develop a portfolio of exceptional cancer research which improves lives and raise the impact of our cancer research internationally
Address fundamental questions such as what causes cells to become diseased by cancer through scientific enquiry
Develop new lab-based first-in-class cancer treatments which use new and unique mechanisms to treat cancer, improving lives and knowledge about the disease
Tailor treatment through the use of ex-vivo drug screening where individual cells and tissue samples are taken from patients to see how they respond to specific drugs before a treatment is given so that the best option can be provided
Invest in studies seeking to understand the role cancer cells play in disrupting bone formation and how this contributes to rapid cancer growth
Encourage the talent of the future by training the next generation of cancer researchers.
Working in partnership
In addition to our work with the University of Sheffield, we are a well-respected partner within both pharmaceutical and manufacturing industries. Our pedigree for delivering high quality research outcomes and clinical trials has been established over many years. If you are interested in finding how to partner with the University of Sheffield's Department of Oncology & Metabolism on research projects please visit the Department's page here.
Our patients are key to tackling the biggest cancer questions
Around one in five people who come to Weston Park Cancer Centre for care have taken part in research at some point during their time as a patient. Many have been involved in more than one study.If you have cancer; you may want to think about taking part in a clinical trial.
What are clinical trials?
Clinical trials are research studies that involve people. Through clinical trials, doctors find new ways to improve treatments and the quality of life for people with disease.
Researchers design cancer clinical trials to test new ways to:
Treat cancer
Find and diagnose cancer
Prevent cancer
Manage symptoms of cancer and side effects from its treatment
Clinical trials are the final step in a long process that begins with research in a laboratory. Before any new treatment is used with people in clinical trials, researchers work for many years to understand its effects on cancer cells in the laboratory.
The advantages of taking part in a trial include that:
You may have a treatment which is only available as part of a trial
The new treatment may work better than the standard treatment (no one knows this for sure, which is why the trial is being done)
You could help to improve cancer treatment for patients in the future
If you are interested in taking part in a clinical trial please speak with your clinical team in the first instance.