How to find us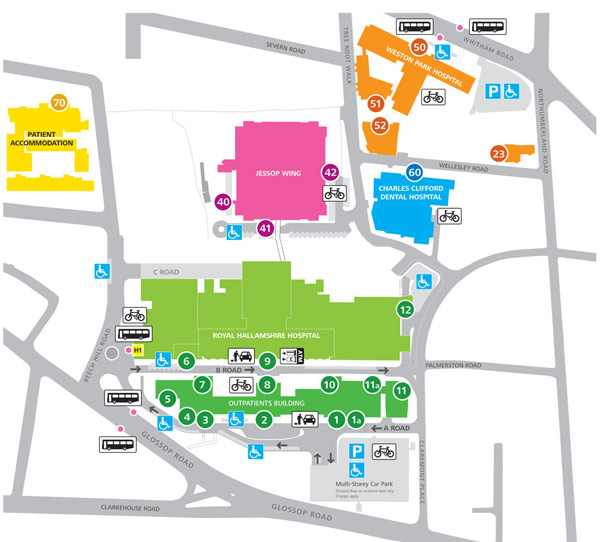 Weston Park Cancer Centre, Whitham Road, Sheffield S10 2SJ
Weston Park Cancer Centre is about a 25 minute walk from Sheffield city centre. Whilst we do have some car parking spaces available at the Centre at busy times it can be difficult to park and so if possible we recommend public transport is the best way to travel to Weston Park Cancer Centre.
We provide clinics and services on several sites so check your appointment letter for the address of the site you need to visit.
We are well served by a number of bus services and close to the tram route. Use Travel South Yorkshire's www.travelsouthyorkshire.com  to plan your journey from anywhere in the UK to the Centre.
The Central campus map (which includes Weston Park Cancer Centre) gives more details about how to find us. Click to download a copy.
Bus routes
Travel South Yorkshire have also published a free Sheffield Hospital Guide www.travelsouthyorkshire.com which lists bus routes serving all Sheffield hospitals. You can also call Traveline on 01709 515151to request a copy.
Tram stops
Supertram can be used to reach Weston Park Cancer Centre, although please be aware that there is still a 10-15 minute uphill walk from the nearest stop (University). We would recommend that anyone who experiences difficulty walking long distances choose some alternative means of travelling to the centre.
Taxis
You may prefer to book a private taxi for your journey to and from the Centre. If you do, please ask the driver to drop you off at the main entrance.
By bicycle
For detailed locations of where public bike parking can be found please see the site map above. For further information on travelling to the hospital via bicycle please contact the Trust's travel Plan Coordinator on (0114) 2266001.
Car parking
Limited car parking is available at Weston Park Cancer Centre and so you may need to allow more time before your appointment or treatment.  Our site maps show where parking facilities can be found.  Disabled parking is also available.
Please bring plenty of change as the Centre operates a Pay and Display Parking system.
The charges are:
Up to 2 hours - £2.50
Up to 4 hours - £3.70
Over 4 hours - £8.40
Overnight stay (from 6pm to 6am) - £2.50
Car park app.
Our car park operator Indigo UK has recently been acquired by a Spanish operator called Saba. Over time you'll see the Park Indigo App change to Saba. Users won't need to delete and download a new app as the Saba branded app will be set as an automatic update in the App Stores. Likewise, you'll see changes on the website too but you'll still be able to purchase parking via the app and website.
If you would like to use this payment method simply download the Saba Parking App (formerly Indigo) for free from the iTunes App store or Google Play for Android devices https://www.sabaparking.co.uk/app. After creating an account and filling in the payment method, select the car park you are parked in and choose your required parking time. You can extend your parking time remotely from your mobile if you need to stay longer.
Important car parking note:
Please be aware that parking charge notices are in operation at Weston Park Cancer Centre. This is to ensure that ambulances and other emergency services have free access to the hospital at all times and that people not visiting the Centre do not take up parking spaces. To avoid being issued with a parking charge notice please make sure that your car is parked in a designated parking space and display a valid parking pass or ticket.
We do understand that there can be occasions where you may be delayed by us or the length of your treatment.
Alternative parking
Q-Park Durham Road
The Q-Park Durham Road car park is about seven minutes' walk from Weston Park Hospital and within easy reach of the Centre.
Up to 1 hour £2.00
Up to 2 hours £3.50
Up to 4 hours £6.00
Up to 6 hours £8.00
Up to 8 hours £10.00
Up to 24 hours £14.00
Evening 5pm-9am £6.00
Saturday and Sunday £5.00 all day
Parking concessions
Concessions are available for certain groups of patients including patients attending regular appointments and for treatment such as radiotherapy and chemotherapy. Please click here to see more information and to download an application form.
Blue badge holders
Blue badge holders can have free parking, A valid blue badge must be displayed when parking.
Accessibility guides for our hospitals
We have partnered with Accessible Go to create accessibility guides to our hospitals. Find them below:
By Ambulance or Medicar
If you feel that you need an ambulance or Medicar to get to the Centre please telephone the number on your appointment letter and speak to a member of staff.
Please note that this service is not available to all patients, only to those with a medical need.
H1 Hospital Shuttle Bus Service
The H1 Hospital Shuttle Bus Service is a public bus service running between the Royal Hallamshire and Northern General Hospitals. The service operates between 0600 and 1800, with buses leaving from both the bus turning circle (at the end of B Road) at the Royal Hallamshire Hospital and from the turning circle (outside the Clock Tower) at the Northern General Hospital.
The buses run half hourly leaving the termini on the hour and half hour every weekday, with the exception of Bank Holidays. There is no weekend service. The buses travel via Herries Road, Penistone Road, Netherthorpe Road, Western Bank and Glossop Road and will stop, by request, at any stop on the route. The fare for the full journey between the 2 hospitals is £2.00 and £1 for any part journey. Click here for more.
Free shuttle bus services
Contact Doncaster Firefly on 07738 390541 or  Weston Park Cancer Charity for its Chesterfield Transport Service on 0114 553 3330 if this would be useful for you.
Firefly
The Firefly volunteers and Firefly Express vehicles provide free transport to local cancer patients and their families in Doncaster to Weston Park Cancer Centre. The initiative was originally set up in 2006 by Denise Dee Dunn, who made a commitment to create a free service for future hospital patients, to help reduce the financial burden associated with regularly travelling long distances to a city centre location and levels of stress and anxiety experienced.
Weston Park Cancer Charity transport service
Weston Park Cancer Charity provides free and safe travel if you live in the Chesterfield, Barnsley or Rotherham and need to travel to and from Sheffield hospitals for cancer treatment or appointments.
For more information visit https://www.westonpark.org.uk/transport-service